At Swan Park by Tofutsu Lake  (3 November 2013, 10:00~ )
It looked like it would rain but we went anyway. Birds do not care about the rain; why should humans. As it turned out, the rain was no more than sporadic. We focused on the birds.
Whooper Swans come to this area from their breeding grounds in Siberia around the end of October each year. Some stay to winter here and others continue further south to other parts of Japan. Most parents come with offspring, still in gray feathers but the same size as adults. Until two years ago, feeding swans and other wild birds such as Pintails and Mallards that would take the items (white bread crusts sold nearby) was allowed, but the Ministry of the Environment built the new Tofutsu-ko Waterfowl and Wetland Center and now discourages the feeding of these birds. It was feared that the swans would no longer come here as a result, but they still do. They feed at the bottom of the shallow lake, and even attract some species of ducks such as Greater Scaups and Common Goldeneyes which feed on material that the swans stir up underwater.
It is also a season when Stellar's Sea-Eagles come to the lake to winter, and of course White-tailed Sea-eagles and Japanese Cranes are also still in the area. At the same time, Tundra Bean Geese come and go in the hundreds. Tofutsu Lake is a well-deserved member of the Ramsar list of wetlands of international importance (since 2005).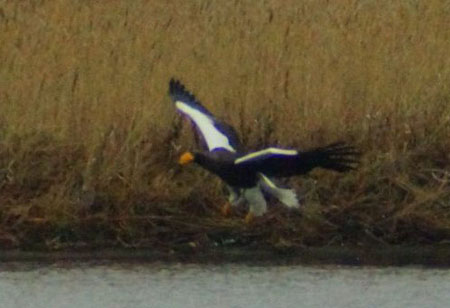 Stellar's Sea-Eagle arriving. (Photo: A.S.)
Toward the end of our observations at Swan Park, a Stellar's Sea-Eagle (adult) suddenly flew in overhead and caused many birds beyond the reeds to take flight. An adult White-tailed Sea-Eagle was there as well.
We expected to see a Japanese Crane in the area, too, while we were there, but this did not happen until an hour after the event ended. There were three cranes, two parents and one juvenile.
After the event, I went with two others to Heiwa Bridge (Heiwa-bashi) at the east end of the lake to check out the Coots that I and others saw there in previous days. It has been rare to see Coots at the lake, at most two (seen at Swan Park before). They are of course very common in lakes at parks in England, Holland, and other countries. Today we saw 11 Coots east of the bridge and 3 Coots on the west side. They were in loose groups with Gadwalls and Mallards which are common here, though today these ducks were fewer in number than the Coots. I am curious to know why there are suddenly so many Coots here now and whether they might even attempt to breed in the area.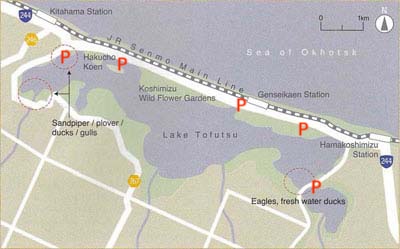 Map of Tofutsu Lake (Source: Tofutsu-ko Waterfowl and Wetland Center Tofutsu-ko Guidebook, used with thanks)
By the way, the new Tofutsu-ko Waterfowl and Wetland Center that opened in May of 2012 is worth a visit if you are birding around Tofutsu Lake. It is located in Swan Park (Hakuchou Kouen) at the west end of the lake. There are informative exhibits on the natural environment and history of the lake with texts in Japanese and Engish, as well as an extensive bulletin board with news of recent sightings and events. The staff is also extremely knowledgeable and helpful. Their website is here (mostly in Japanese at the moment).
The map at right shows these locations. There are also two parking areas along route 244 where you can stop and observe Tofutsu Lake birds.
Japanese Cormorant (Umi-u; Phalacrocorax capillatus) in foreground with Greater Scaups (Suzu-gamo; Aythya marila) and one Common Goldeneye (Hoojiro-gamo; Bucephala clangula) (right).
Whooper Swan surrounded by Greater Scaups and a Common Goldeneye (right) who dive underwater and feed on material stirred up by the swans when they feed in the shallow waters of the lake.
Dunlins (Hamashigi; Calidris alpina sakhalina) in winter plummage. A group of 20-30 flew in at the end of the event.

Right: A pair of Eurasian Coots (Oo-ban; Fulica atra atra) among 11 that were in a loose group of ducks that included Gadwalls (Okayoshi-gamo; Anas strepera strepera).
Below: Five of the 11 Coots. On the left is a Gadwall.
Bottom: On the west side of the bridge were three more Coots and a female Mallard nearby (not in photo).
Today's list: Tundra Bean Goose (Hishikui SSP), Whooper Swan (Oo-hakuchou), Mallard (Ma-gamo), Northern Pintail (Onaga-gamo), Greater Scaup (Suzu-gamo), Common Goldeneye (Hoojiro-gamo), Smew (Miko-aisa), Common Merganser (Kawa-aisa), Great Cormorant (Kawa-u), Japanese Cormorant (Umi-u), Grey Heron (Ao-sagi), Japanese Crane (Tanchou), Bar-tailed Godwit (Oo-sorihashi-shigi), Dunlin (Hama-shigi), Black-headed Gull (Yuri-kamome), Black-tailed Gull (Umineko), Mew Gull (Kamome), Slaty-backed Gull (Oo-seguro-kamome), Black Kite (Tobi), White-tailed Sea-Eagle (Ojiro-washi), Stellar's Sea-Eagle (Oo-washi), Peregrine Falcon (Hayabusa), Carrion Crow (Hashiboso-garasu), Large-billed Crow (Hashibuto-garasu), Brown-eared Bulbul (Hiyodori), White-cheeked Starling (Mukudori), Eurasian Tree Sparrow (Suzume), White Wagtail (Haku-sekirei), Oriental Greenfinch (Kawara-hiwa) [28 species]