Koshimizu Wildflower Park & Tofutsu Lake (June 20, 2010, 6:00~ )
Visitors from California Join our Event at Koshimizu
Six o'clock in the morning in our part of the world is the solar equivalent of 7:00 or 8:00 in most other parts of the world at our northern latitude of 44 degrees during this summer solstice time of year. The sun rises shortly after 3:00 here, which is wonderful if you love to get up early and watch birds long before there is any sign of human life around you...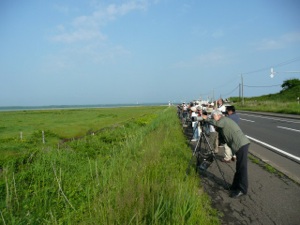 At our 6:00 birding event on the 20th of June along the bank of Tofutsu Lake near Koshimizu Wild Flower Park (Koshimizu Gensei Kaen), we were pleased to welcome Prof. Ron Felzer and six of his ecology and natural history students from Merritt College in Oakland, California, USA, while they were on a month-long study tour around Hokkaido. A total of 34 came for the event.
The main hope of our meeting that morning was to see if the Yellow-breasted Bunting had arrived, and while we were looking and waiting, there were plenty of other birds around: Grey Heron, Gadwall, Mallard, Latham's Snipe (lots of displays too), Eurasian Skylark (which also displayed), White Wagtail, Siberian Stonechat, Reed Bunting, Middendorff's Warbler, Lanceolated Warbler, Chestnut-eared Bunting, Oriental Greenfinch, White-tailed Sea-Eagle, Black Kite, Northern Hobby, and a few others. In the dunes across the highway we could also see the Siberian Rubythroat [photo top right]. The sounds of so many birds early in the morning were uplifting as always. Unfortunately we could not see any Yellow-breasted Buntings this time, nor any Yellow Wagtails which are also usually seen here at this time of year. [Update summer 2013: Yellow-breasted Buntings seem to have disappeared from Hokkaido, reason not clear.]
After the event, the visitors from California and a few others including Yasuhiro Kawasaki, head of the Okhotsk Chapter, walked through Koshimizu Gensei Kaen across the highway and spent an hour or so looking at a variety of wild flowers in bloom, including the Ezo-sukashi-yuri (Lilium pensylvanicum) and we wondered how a plant with a scientific species name that sounded like Pennsylvania could have a Japanese name that started with Ezo, indicating Hokkaido origin. We also saw some Ezo-tanpopo – the Ezo Dandelion – which can be distinguished from the Western Dandelion (Seiyou Tanpopo), introduced to Hokkaido in the late 19th century and now widespread, by its upright phyllaries compared to the downturned phyllaries of the Western Dandelion.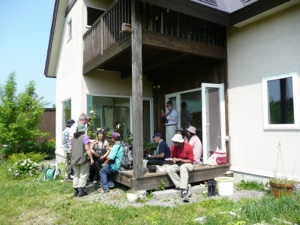 Then it was learned that one member of the group from California was a mushroom specialist, so Kawasaki invited the group to his home not far away to inspect edible mushrooms that grew naturally in his garden. The main focus that started with birds suddenly switched to mushrooms, as Kawasaki pulled out guidebooks to the mushrooms of Hokkaido, identifying which ones were edible, which were not, and which were edible according to the guidebook but turned out not to be edible for some unlucky people! A heated discussion ensued on the topic of whether mushrooms were better eaten cooked rather than raw, a Japanese preference in some cases for the sake of flavor.
We also talked about some details for our evening event – a slideshow by Ron Felzer and a video show by Yoshiaki Watanabe – that was planned at Freppu, a café in Yobito, near Abashiri.
Slide Show by Ron Felzer and Video Show by Yoshiaki Watanabe
Six o'clock in the evening marked the start of a wonderful dinner of both Japanese and Western dishes prepared by Yoko Sato, proprietor of Freppu, a café in Yobito just outside Abashiri near the bank of Lake Abashiri, and by Megumi Watanabe and Yuriko Oikawa. Freppu is frequented by many locals with interests in the nature of the Okhotsk region where they live.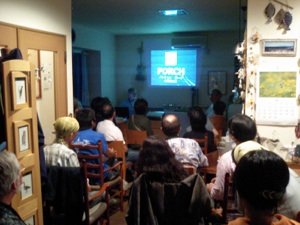 The dinner and subsequent presentations were attended by the café's maximum capacity of 21 people, including local nature guides, members of the Okhotsk Chapter of the WBSJ, researchers in nature at the nearby Okhotsk Campus of the Tokyo University of Agriculture, and of course the six students from California.
The slideshow by Ron Felzer on the Natural History of Hokkaido – based on two month-long journeys through the nature of Hokkaido that Ron took in 2007 and 2009 – started as soon as the sun set around 7:30 and lasted about an hour and a half, though it could have gone on for longer if time permitted. Ron took us along a path that started in Kiritappu and Akkeshi, continued through Shiretoko and Abashiri, and finished in Wakkanai and Rishiri. During the break prior to Watanabe's video, Yoko Sato served coffee and Doug Braat, who served as one of the interpreters, refilled glasses with spring water he had brought from a natural source at Mt. Mokoto earlier in the day.
The 30-minute video show by Yoshiaki Watanabe featured bird life in the Okhotsk region with scenes he photographed himself such as a White-backed Woodpecker building a hole in the side of a tree for a nest only to see it taken over later by a White-cheeked Starling, a Chestnut-cheeked Starling taking over the nest that had just been built by a Great Spotted Woodpecker, and a Stonechat vigorously chasing a Cuckoo away from its nest. The video was impressive not only for the quality of photography but for the way it brought humans into the world of birds.
No one was in a hurry to leave following the presentations. Another hour or so of casual conversation ensued across disappearing language barriers, while the onset of rain outdoors brought some welcome relief to a long, hot, sun-filled day. As Ron often says, "Mata aimashou!"
Local Abashiri paper covers Freppu Event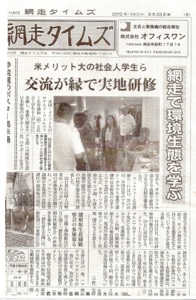 Our event at Freppu was low-key and we did not expect or seek any coverage from local media, but on the following Wednesday, we were surprised to see an article and photo about it in the Abashiri Times, a paper devoted to covering local news. We later learned that Prof. Hironari Sakai of Tokyo University of Agriculture, Ron's first contact in the Abashiri area back in 2007 and present at the event, had "leaked" information about it to the local paper. Without Sakai, Ron might not have stayed as long in Abashiri as he did. From Ron to Sakai: "Arigatou gozaimasu!"