Coastal Bird Surveys
Background
In the spring of 2006, as many as 5,600 (based on Okhotsk Chapter count) dead seabirds, contaminated with crude oil, were found washed up mostly along the coast of Shiretoko, a World Natural Heritage Site. (Click the link in the menu above to see our Photo Diary of these events.)
This unprecedented event raised concern that the entire Okhotsk coast should be surveyed, and volunteers arrived from all over Hokkaido to participate. This movement extended from Wakkanai to as far as the Nemuro/Kushiro coast. A total of 185 volunteers ultimately participated in this large-scale "Eastern and Northern Hokkaido Coastal Survey".
Despite the large volume of data collected during the survey, the precise cause of death for so many birds unfortunately remained a mystery.
This survey was not a wasted effort, however. If anything, we gained a deeper understanding of the importance of collecting accurate data at all times, not just during emergencies such as oil spills. Many participants wanted such efforts to continue.
After making some adjustments in structure and methods to suit current realities, this coastal survey was conducted again in 2007, 2008, and 2009. The entire coast of Hokkaido was surveyed and valuable data was collected at all locations.
The coastal survey will be conducted again this year, and while the method will basically be the same as last year, the focus will be on participants' own locations. Having local residents know the coastal region where they live will give them a greater appreciation of the sea and the various forms of life that live there. Even if we all do it just once a year, it's good to become involved.
Basic Approach
1. Focusing on seabirds and coastline in the area where participants live
The issue originally started with seabirds along the coast of Shiretoko and volunteers came from far away to assist with the survey that focused primarily on the Okhotsk coast. Now, however, our theme is "Let's take care of coastline where we live", so we are asking volunteers to identify areas that need care in their own immediate locality. The scope of the survey will continue to be the entire coast of Hokkaido, even though problems of oil contamination are not limited to the coast.
2. Local groups of volunteers to decide the details of their surveys
Basic survey methods will not change, notes to be taken in the field and mapping used will remain uniform, but details such as who, when, and where will be decided by participants themselves; there will be no uniformly applied survey days. Everyone is encouraged to participate at least once between April 1st and 30th (April 1st to May 31st in 2015).
3. Surveys by birdwatchers
Until now, only people that were able to conducted count surveys of coastal bird species, but now we are making count surveys a principal part of the survey. Therefore, if more than one person is conducting a count, one of those people must be an experienced birdwatcher (someone with basic knowledge of seabirds). If only one person is conducting the count, that person must be the experienced birdwatcher. Birdwatchers with less experience are encouraged to join the more experienced ones. We also ask that even experienced birdwatchers work to raise their goals and skills, not just being satisfied to identify birds in the field, for instance, but also to know species by the feathers that fall or by their bones, as this is an excellent opportunity to learn much more. Of course, improving one's ability to identify birds in the field will also directly contribute to improvements in accuracy for the coastal survey, so we ask everyone to closely look at ways to improve their own particular skills. Since this coastal survey will continue to be conducted each year, we hope that eventually there will be coastal survey experts everywhere in Hokkaido.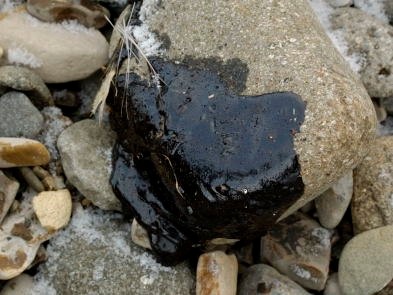 This is how the surveys first started. The presence of Northern Ravens at the mouth of the Onnebetsu River on the north coast of Shiretoko alerted a photographer in the area that something was amiss. When he walked along the shore, he found this rock covered with crude oil and the dead carcass of a contaminated bird.
(Shiretoko shore near Onnebetsu River, 28 February 2006)