Places to Eat in the Abashiri Area

There is an enjoyable variety of places to eat in the Okhotsk region, from Japanese food to Western food, from fast food to slow food, from cafés to more formal restaurants, as well as land food and sea food. But in most areas, because we are in the countryside, your choice of cuisine might not be available where you happen to get hungry, and you'll be happy if you find anything at all. Convenience stores manage to suffice in a pinch. I hope the information below and on the other pages will help you find something more quickly, and make it enjoyable for you as well.
Important caveat: Places to eat in the region tend to come and go, open hours change, so it is not always possible to provide up-to-date information.
We start with Abashiri here; use the links above for other areas.
Abashiri area
Downtown

, both south and north of the Abashiri River
Abashiri Michi-no-Eki

("Roadside Station") 2nd floor
Wide variety of standard Japanese food
Op: 11:00~16:30 daily Cl: 31 Dec ~ 1 Jan only
Price: ¥480~¥1,500 Web: A bit about this Michi-no-Eki
Other: Non-smoking; no credit cards; kids okay
Access: 1.7 km on main road from Abashiri train station heading east, left side, facing harbor; good parking. Map
Comments: If you are in Abashiri and not looking for dinner, this is a great place for birders. The restaurant is on the 2nd floor, and the seats along the window have a good view over the mouth of the Abashiri River, and beyond to Cape Notoro. You will want your binoculars with you. The food is simple but good. I usually order a set meal of deep-fried Hokke fish (#32 on the ticket machine) or fried chicken (#26) for ¥550, good value [information not up to date in 2020]. Set meals include a large bowl of rice and miso soup. Noodles and seafood dishes are also on the menu. (You can enlarge the menu by clicking on it.) Order and pay for your food at the machine, sit where you like, wait for your number to be called, pick up your food, then return your dishes when you're finished. *If you are taking an Abashiri Nature Cruise (Spring ~ Autumn) or Drift Ice Cruise (late January ~ mid-March, when the drift ice is around), your boat will leave from the dock behind the Michi-no-Eki.

Bistarai Bistarai

(ビスターレビスターレ)
Nepalese & Indian curries; Good food
Op: 11:00~21:00 daily
Cl: Year-end/New-year holidays
Ad: Kita 6-jo Nishi 1-chome 2-2, Abashiri
Price: Lunch around ¥850~1,500; Dinner ¥1,200+
Web: n/a
Other: Non-smoking; no credit cards; kids okay
Access: Located north of Abashiri River, next to (east of) Kosei Hospital. From downtown Abashiri, cross Abashiri Bridge (at Mister Donuts) and turn left at the light by a Mitsubishi car dealer. (If you go straight, you are headed toward Cape Notoro.) From Abashiri station, cross Shimbashi Bridge in front of the station and follow the road for about 1 km till you pass the huge Kosei Hospital on the right. You will then see the restaurant as it looks in the photo. Parking for 4 cars. Map
Comments: Arjun, from Nepal, started this restaurant in 2005, just before I started to live in Abashiri. It was one of the first restaurants I went to, since I noticed it from the bus window as I rode to the Abashiri bus terminal from the airport. His wife waitressed. Arjun is a happy, hard-working person. Now there are Bistarai restaurants in Bihoro, Kitami, Kushiro, Obihiro, Asahikawa, and Sapporo, too. It's a good place to get a proper feed when you are hungry, such as after a birdwatching session at Cape Notoro.
Yobito

, town at the entrance to the Yobito Birdwatching Trail
Komaba

, Abashiri's shopping area, and gateway to Komaba Kinohiroba Forest Reserve

(Simplified PDF map, opening in a separate window)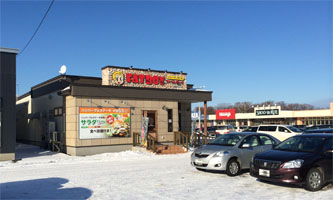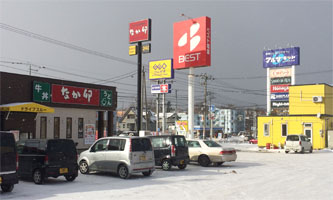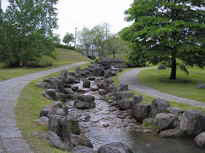 Other places in Komaba we like to go to: Fat Boy (American-style hamburgers, steaks, all-you-can-eat salad bar) behind Best Denki electrical appliances; Nakau (fast-food-style udon, beef bowls, etc.; a nationwide chain), in front of Best Denki next to the "au" mobile phone shop; Sampachi Ramen (Chinese noodles), yellow building near Nakau, don't forget to take a free ice cream from the freezer in front of you when you check out!
*Walking from the Best Denki / Co-op supermarket area to Kinohiroba Forest Reserve is also possible, as there is another entrance via the residential neighborhood behind Shimamura and Hard Off. Walk through the ally between those two stores, out the employees' parking lot in the back, then turn left when you see your way clear to the forest. The entrance is near a small playground for kids. (See PDF map of Komaba mentioned above.)
*Another park within walking distance from this area is Komaba Park. Cross the main road (to the Lawson side) and walk west past Lawson less than 200 m up the hill until you get to the entrance to the park where you see trees and a stream below. The park is about 600 m long. There once were three spot-billed chicks and a mother here. There are also crows and foxes, a harsh environment for young birds. There have even been cases of children bullying birds here, and if you happen to see this sort of behavior, please do not be shy about telling them to stop, in any language you speak.